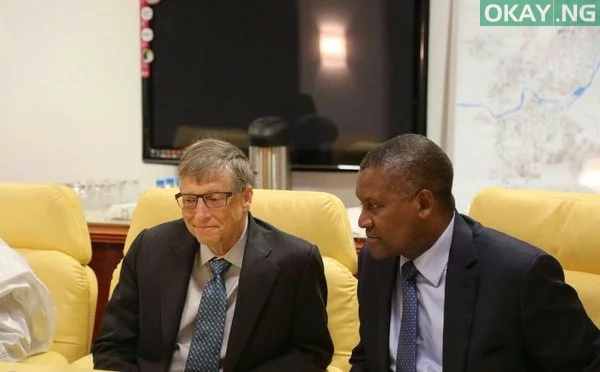 The founder of Microsoft, Mr Bill Gates, says Africa's richest man, Alhaji Aliko Dangote, is generous with his resources and time on issues of global health.
The Co-Chair of the Gates Foundation disclosed this while speaking on the 2018 Bill and Melinda Gates Annual Letter to a group of journalists from different African countries in a telephone conference.
"The person we work with the most is Mr. Dangote and I am always amazed how generous he has been both with his resources and his time. Last month, he and I spent six hours on video conferences with six of the northern states where we, twice a year, check in with them and look at their primary healthcare quality in terms of the staff, the location, the supply chain and the results they are getting in terms of vaccination and other interventions", he said.
A journalist had asked Gates what he would say to convince billionaires in Nigeria to consider the commonwealth in their country instead of acquiring wealth and stashing it offshore.
"In the entire world, Mr. Dangote has been a very key partner (of the Gates Foundation in funding global health). And the big challenge of improving the primary healthcare, particularly in the North, I know we would not have a chance of doing that without him", the second richest man in the world according to the 2018 ranking of Forbes magazine answered.
He went on: "I have had a chance to meet with other Nigerians but, in fact, he is the only one who I am personally aware of his significant activities that is working in this key sector. There may be other people working. in sectors like education or other environments that we don't work in. Whenever I travel, I try to sit down with successful people and encourage them that philanthropy can be a great thing.
"I was looking over the Nigeria purported list of wealthy people and it was interesting that a number of those seem to be based in London. But I am always interested in suggestions about how we draw more people in. We need lots and lots of partners, particularly if they understand the local issues and how the government works locally.
"They have credibility and understanding that we don't have. And so we would love to have more partnerships like we have with Mr. Dangote.
"The companies we work with have a presence in Africa and there are certainly smaller organizations, profit and non-profit like eHealth in Nigeria, or some of the scientific companies in South Africa.
"One of the two philanthropists that we work with is Patrice Motsepe in South Africa. Aliko Dangote who has been an incredible partner in Nigeria works with us on things like nutrition and the primary healthcare sector".
318 Views