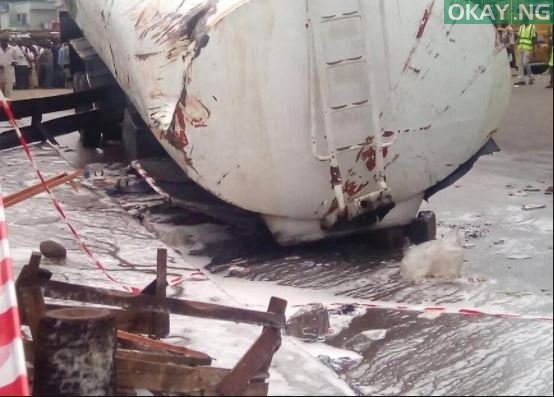 A petrol tanker has fallen at the Singer Area of Sango-Ota in Ogun state on Wednesday morning, crushing a delivery van with residents scooping its spilled content.
It was gathered that the incident took place around 6 at a failed section of the road at around 6 a.m.
The tanker was said to have fallen at the section in front of a Conoil filling station but security operatives averted a major disaster with their early arrival.
"The tanker fell this morning between 5:30 am and 6 am but the area had been cordoned off to avoid any form of disaster," the Public Relations Officer of Ogun State Traffic Compliance And Enforcement Corps (TRACE) Babatunde Akinbiyi, said.
"Efforts are being made to remove the tanker and the Hyundai van from the scene."
301 Views